Education is a sacred endeavor for Palestinians. Through history and due to their multiple plights, Palestinians have come to realize that education is the gift that can't be confiscated, demolished or occupied.
The University Scholarship Program has helped over 2,500 Palestinian students realize their dream of higher education. UPA awards full-degree scholarships that cover a substantial amount of student's tuition to study at leading universities in the West Bank and Gaza Strip. *Recipients are nominated by universities and must demonstrate academic excellence, financial need and a desire to give back to their community and nation. By assisting students to attend local universities, UPA seeks to buttress Palestinian higher education and encourage the development of an independent, sustainable Palestinian economy.
Starting in 2018, the University Scholarship Program will be renamed the Mahmoud Darwish Scholarship Fund in honor of Mahmoud Darwish's vast literary contribution to Palestinian literature and in collaboration with the Mahmoud Darwish Foundation.  2018 marks the ten-year anniversary of Mahmoud Darwish's passing, the 30th anniversary of UPA's scholarship program and the 40th anniversary of UPA. Meet some of our recipients:
Laith is a graphic design major at Dar al-Kalima University College of Arts & Culture in Bethlehem, hoping to work as a graphic artist.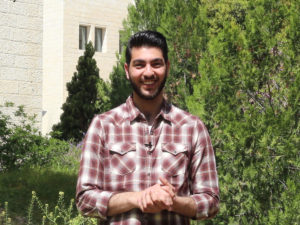 "Education is very important to me. It broadens my horizons, especially in my major, graphic design, because there are some things we can only communicate through visual means. As for Palestinians, we are a nation under occupation, and education allows us to express our culture in artistic and unconventional ways."
Riham is an education major at Bethlehem University, hoping to become a teacher.
"When United Palestinian Appeal gave me the scholarship it helped me a lot and made me optimistic that I can finish college. It also helps us have the motivation to finish and to give back the same way we were given. And when I graduate, God willing, I will give as much as I can and I will volunteer."